Linnwood is an historic house set on 5 hectares of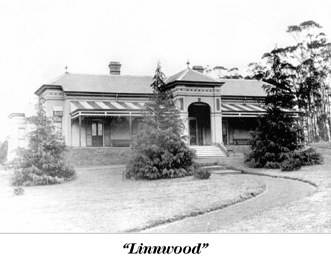 ground at Guildford in the Western Suburbs of Sydney. The house was built in 1891 by George McCredie, a prominent businessman of the day, Mayor of Prospect & Sherwood, and Independent member for the State seat of Central Cumberland, an independent free trader and an advocate of female suffrage.
After his time in government, George McCredie was called upon to supervise the cleansing of the City of Sydney when there was an outbreak of the Bubonic Plague in 1900.
A few years after his death in 1903, his wife Susan McCredie (nee' Blackwood) leased the property to the Education Department as the State's first and only Boys Truant School. The Department then purchased the property in 1921.
In 1936 the property converted to a residential girls school for State Wards aged 14 years and upwards.
By 1966 Linnwood was seen as a Special Training School for Home Science for girls from deprived backgrounds. With changes in the welfare system, homes like Linnwood gradually became superfluous to the Department of Community Services' needs.
After learning of the Department's plans to sell the property on the open market, the Friends of Linnwood formed in 2002 to help 'preserve and protect' the property.
Linnwood was listed on the NSW State Heritage Register in February 2003.
The Linnwood Estate is now under the Trusteeship of Cumberland Council.